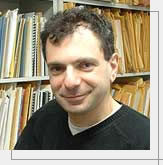 Roger Zahab instigates complex relations through his activities as composer, violinist, conductor, teacher and writer.
His work has been performed throughout North and South America, Europe and Asia by such soloists and ensembles as cellists David Russell and Lawrence Stomberg, violists David Cerutti and Hannah Levinson, violinists Wyatt True and Nathalie Shaw, flutists Elizabeth Brown, Lindsey Goodman, George Pope and Rachel Rudich, guitarists James Ferla, James Marron and John Muratore, pianists Robert Frankenberry, Bennett Lerner, and Eric Moe, percussionists Lisa Pegher, Joshua Quillen, William Sallak, David Skidmore and Dale Speicher, new music groups California EAR Unit, Flute Force, The Furious Band, IonSound Project and Pittsburgh New Music Ensemble, and orchestras such as The New Amsterdam Symphony Orchestra, Robert Black, conductor, and the Akron Symphony Orchestra, Christopher Wilkins, conductor.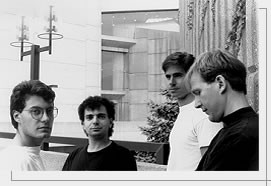 Daedalus String Quartet:
Philip Baldwin, Roger Zahab, Jerry Miskell, James Hinkley
A selection of chamber music has been released: entelechron: time + memory, performed by entelechron: with the composer as violinist, cellist David Russell and pianists Robert Frankenberry and Eric Moe. Other recordings include ...some measures for living by George Pope, flute and Eric Charnofsky, piano (Crystal Records), I still dream and Jump for steel drums performed by Josh Quillen (Steel Drums, available from Bandcamp), deceived by starlight performed by vibraphonist Dale Speicher (Seattle Percussion Collective), levitation of pianos during a waltz played by pianist Eric Moe (Albany Records), Earth's Jig and Silence Orchids played by pianist Bennett Lerner (Albany Records) and Verging Lightfall played by the composer on violin and Eric Moe, piano (Koch International Classics). These recordings and others are available from cdbaby, iTunes, Amazon, Spotify and YouTube. Recent works include vioentelechron - for violin and orchestra in flexible instrumentation, at the piano - in honor of favorite pianists, Akron Chronogram for large orchestra with video by Laura Ruth Bidwell commissioned by the Akron Symphony Orchestra, Christopher Wilkins, music director, to celebrate its 60th anniversary, A Christmas Carol - a chamber music version of Charles Dickens' classic, the evening harmonies for violin and viola, Prism Projects, St. Peter's Church in Chelsea, NYC, Evening on 57th Street for solo violin and orchestra with Music on the Edge Chamber Orchestra, Pittsburgh. Recent commissions include the opera Happy Hour! - commissioned by the Opera Theater of Pittsburgh for performances in taverns throughout the Pittsburgh area as well as in their Summerfest in June and July, 2014, In the Moment for violin and piano, commissioned by the Carnegie Museum of Art, Pittsburgh, I doubt this is over (IonSound Project) and green emotion censer (Pittsburgh New Music Ensemble).
As a violinist, Zahab has given more than a hundred first performances and championed music by a wide range of composers from John Cage to Eric Moe, Kwabena Nketia and Tison Street to Judith Weir and Christian Wolff. Recordings as violinist and composer are available on the Truemedia, Albany and Koch International Classics labels.
Publications include a work for solo snare drum, tapping points, which is published in The Noble Snare collection of compositions for unaccompanied snare drum, volume 4, Smith Publications. His version of John Cage's "Thirteen Harmonies" for violin and keyboard instrument is published by C.F.Peters Corporation.
His conducting repertoire encompasses the history of ensemble music from Andrea Gabrielli up to the present, and includes recent premieres of the operas A Woman in Morocco by Daron Hagen and Barbara Grecki for Kentucky Opera and Mercy Train by Douglas Levine and Julie Tosh.
Current faculty positions include:
University of Pittsburgh, Pennsylvania: Senior Lecturer and Director of the University of Pittsburgh Symphony Orchestra and Music on the Edge Chamber Orchestra
Vermont College of Fine Arts: Founding core faculty member of the MFA in Music Composition.
View Roger Zahab's resume in Adobe Acrobat PDF format.